Apple iOS app transfer made easy
18 June 2013

- John Kivit
Good news for app owners. The transfer of an Apple iOS app will become a lot easier. Apple has announced this at their WWDC conference last week. Developers have been informed by e-mail about this new and easy procedure.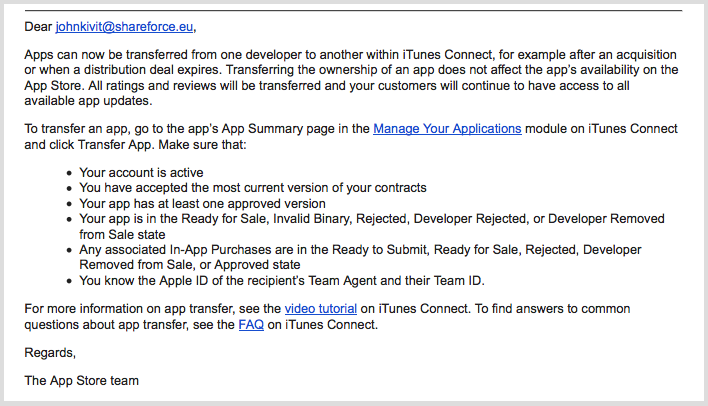 Until now changing the ownership of an app was a hard and confusing process with all kinds of hassle involved to make sure everything was flawless. Apps change owners more and more because of acquisitions or the fact that the app was submitted under the name of the developer previously. With the new procedure it is not only possible to change the ownership, but also to transfer current users, ratings and reviews to the account of the new owner.
To transfer the app, the current owner only has to enter the Apple ID of the new owner in iTunes connect. There still are some conditions that have to be met, but in most cases they will not be a limit for a smooth transfer process. 
You can get more information about the transfer process by checking the video tutorial or the FAQ (Apple ID required).