iBeacons - smart and simple
19 February 2014

- John Kivit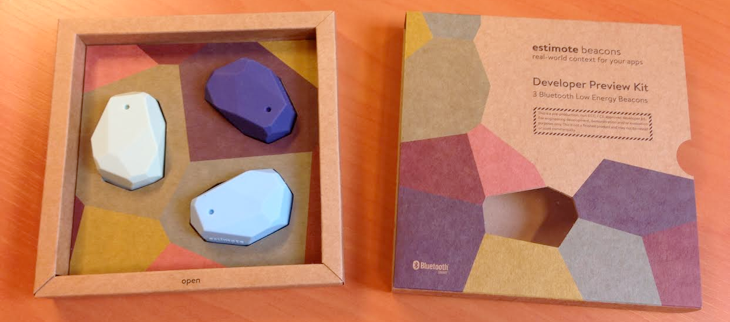 iBeacons will make the life of the consumer a lot easier in the years to come. What GPS does for outdoor navigation, iBeacons will do for indoor positioning. To realize that smart innovations with an enormous impact are not always very complex, you only have to take a closer look at this promising technology.

What are iBeacons?
iBeacons are nothing more than simple bluetooth transmitters. They have a Bluetooth Low Energy (BLE) chip and a lithium battery on board. A set of three iBeacons is for sale for less than $100. We ordered a very trendy looking set from Estimote. Every Beacon has its own unique identifier that is continuously broadcasted. Any smartphone can pick up this signal. When a facility is stuffed with multiple iBeacons you can determine where a person is and how he is moving around. iBeacons are ideal for indoor positioning. Just the kind of stuff where GPS is not good at.

Advantages
The advantages of iBeacons over existing technologies are multiple. First the costs are very low. It is expected that the price will drop to less than $5 per Beacon. For that price the device will work about 1-2 years on a standard lithium battery. Afterwards you just throw it away and replace it by a newer model that probably will be even cheaper at that time. Its a no brainer regarding the investments that are needed for this technology.

In comparison with NFC the reach of iBeacons is much wider. NFC works within a range of about 20cm. iBeacons work up till 70 meters. Next to that they are waterproof and you can position them anywhere you want. No need for a complex installation proces.

But the real power of iBeacons gets clear when they are combined with smart apps. iBeacons work with both Android and iOS smartphones. The smartphone knows who you are and the iBeacons can tell any app where you are indoors. All kinds of contextual services and notifications can be built upon this knowledge.

Applications
The smart and simple Beacons can be used for a lot of new applications. A few examples are:
indoor navigation: in places like airports, stadiums and shopping malls. The Beacons and apps will show you the right direction. In the future we will no longer need indoor signing to find our way around.

sales promotion: retail can seduce its customers with special discounts at the moment they walk in or at the moment they are near a particular store shelf.

loyalty: with the iBeacon technology customers can be automatically rewarded for visiting your location. No need for special loyalty cards. They just store them on their smartphone.

access control: automatically unlock the door of your house or office building. The Beacon knows its you that just walked in. Services like this can also be secured with an optional access code.

payments: iBeacons are a direct competitor to NFC. It can be used to facilitate payments for products and services on location. 

Want to experiment?
Do you have plans to use this smart technology in your organization? We would love to get in touch and brainstorm about all its possibilities. Contact us and we will tell you everything about this promising new technology.