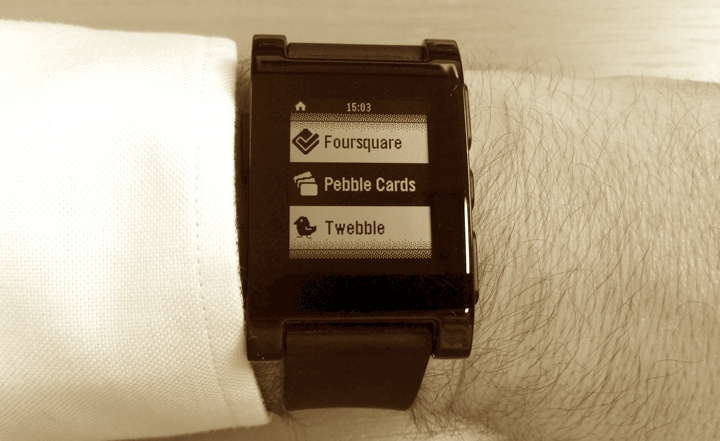 Smart glasses, watches and even rings are on the verge of a breakthrough. 2014 will be the year consumers discover wearables. I have been playing around with Google Glass and Estimote Beacons and now it is time to give the smartwatch a test drive.
Its already a crowded smartwatch market. Big players like Samsung and Sony introduced their own models but also new players like Pebble, Toq and Martian entered the market. And of course Google announced that they will launch their own smartwatch model. I have chosen to give the Pebble smartwatch a try, because it is one of the few devices that communicates with both Android and Apple phones. Smartwatches still need smartphones for a lot of their features and connect via bluetooth. Did you know by the way that the funding for the Pebble was crowdsourced via Kickstarter?
The first thing you will notice is that the Pebble has buttons on the side for the controls and no touchscreen. This looks a bit old fashioned. Pebble has chosen for e-ink technology which means it has no color screen. This disadvantage also has one important advantage. Most other smartwatches need to be recharged every other day. But the battery of the Pebble will last for 5 - 7 days. 
Advantages:
communicates with both Android and iPhone
battery life
relatively cheap
simple in use
ideal notification device
works as a remote control (for music, Hue lighting)


Disadvantages:
black / white screen
limited input options (buttons, no speech)
design
phone calls not supported (you can answer / ignore them)
unstable bluetooth connection
For developers its good to know there is an SDK for MacOSX, Windows and Linux. Simple stuff can also be developed on SimplyJS (Javascript) and CloudPebble (browser based). Pebble runs on its own (closed source) operation system. Developing for Pebble has similarities with programming in C.
Finding the true benefits of the smartwatch was not very easy. But after a couple of weeks it became clear to me that the added value is in simple stuff. For example notifications, agenda, checkins, reading tweets and checking weather information. The number, but also the diversity of the apps available, is still limited at this time. But the fact is that my iPhone stays in my pocket more and more. App messages I read on my Pebble, as well as my average speed during on of my runs.
It is my expectation that the mobile phone will be a dumb 3G/4G hub in the future and wearables use it as their connection to the outside world. I think smartwatches are here to stay and it is a fact that Dutch youngsters really love smartwatches. But i am very curious about the new models to be launched by Samsung, Google and perhaps Apple, because this Pebble for now is to limited in its features for me.