Schiphol valet parking app proves quality
17 June 2013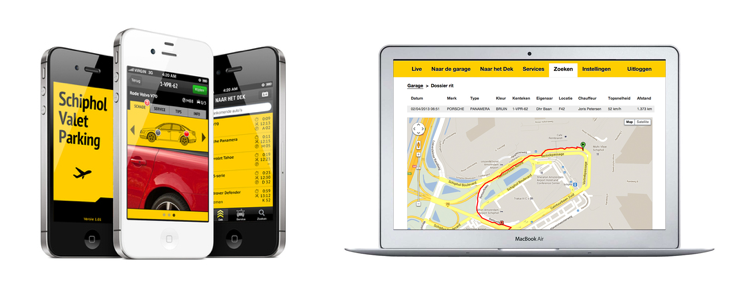 D&B Group has provided the drivers of it's Schiphol Valet parking service with a new mobile app that gives a crystal clear insight in the reliability of their services. The registration of data with pictures, GPS tracking and tips made the paperwork and misunderstandings about car damage history. The app was an important element in the proposition of D&B Group for winning the contract of the Schiphol Valet Parking service in 2011. Somehow was responsible for the concept and design. Shareforce was responsible for the technical realization of iPhone app and web interface.
Better precision and punctuality

Car drivers hand over their keys and go directly to their flight. The service is based an mutual trust. It's no exception that an Aston Martin or Porsche is being parked. With the Schiphol Valet Parking app, drivers register the cars current state with pictures. The route they drive to the parking lot is tracked by GPS. The precision and punctuality of the work has improved and paperwork has become history.
Rely on facts

"The relationship with our customers is very important. Sometimes a client notices small damages on his car. With this app we can talk about the facts and in most cases prove that we were not the cause of the damage." (Thomas Harms, general manager of Schiphol Valet Parking) 
Winning proposition

On a yearly basis, between 35,000 and 40,000 cars are being parked by the employees of Valet Parking. The D&B Mobility Group has won the European contract for the valet parking service in 2011. The concept of Somehow for this app was an important factor for winning the contract. Schiphol liked the fact that this app builds a new and reliable image. In the past, this image was somewhat hurt by rogue provides of parking services near the airport.
Motivations & frustrations

"We involve future users in an early stage to learn about motivations and possible frustrations in the process. We are not only automating services, but also innovating them. In this case we had a close cooperation with the drivers and management of the Schiphol Valet Parking service." (Marco van Heerde, design strategist at Somehow) 
"There are only winners with this solution. It's a perfect example of how to make a process more transparent and efficient by using mobile apps." (John Kivit, CEO at Shareforce).