Mobile commerce has bright future
19 September 2013

- John Kivit
Millions of Dutch consumers buy products and services with their smartphone or tablet. That is the main result of a short survey by research agency Multiscope among a representative sample of 1.000 Dutch inhabitants. A surprising 25% of all interviewed, have bought products or services in the last month from their smartphone or tablet. M-commerce, similar to its predecessor e-commerce, appears to have a bright future.

Men (27%) shop more than women (22%) on the mobile channel at this moment. The age group between 45 and 54 is doing the most of m-shopping (29%). The table below shows which products and services are popular: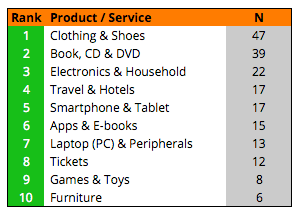 Clothing is most popular. But also a least obvious category like Furniture is in the top 10. The diversity of the categories mentioned, clearly shows that m-commerce is maturing.

On Wednesday 6 November Shareforce is hosting the 4th edition of the Mobile Pioneers knowledge sessions. The main theme for this edition is 'mobile commerce'. The short survey was part of our preparation for this session. The first speakers will be announced in the coming weeks.