Social, local and mobile overview
05 December 2013

- John Kivit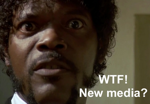 In November I did a presentation about new media for the food marketeers of the Trema network. Because new media already dates back to 1991, I decided to zoom into more recent developments in technology that have a large impact on marketeers.
Social, Local and Mobile (SOLOMO) are the three most important drivers that change how marketeers can reach consumers nowadays. In this article a short summary of my presentation. The full (Dutch) presentation with statistics, cases and tips can be found below. 
Mobile
About 60% of the Dutch own a smartphone and 40% own a tablet. Samsung dominates smartphone sales and Apple is leading in tablet sales. Tablets nowadays nearly outsell laptops and desktop PC's.
The rapid growth of smartphones and tablets has given birth to a whole new channel (apps / appstores). Its not easy to stand out in the overcrowded app market.  Appstore optimization can help. It is also important to optimize your website for mobile visitors. More and more visits come from a mobile device. Responsive design makes sure your website looks good on any device or screen.
Apps and responsive websites on their turn are important drivers for mobile commerce. The share of m-commerce in e-commerce today is about 11% . But consumers still face quite a few problems, leading to conversion problems on mobile devices.
Social
Facebook, Twitter and LinkedIn are a must in the Netherlands. Organizations need a presence on these social networks. The Facebook like and Twitter follower are todays newsletter subscription. Social networks offer the possibility for targeted advertising so you can reach any target group. Social media users expect companies to react within two hours after a question or complaint. They think of social media as a service channel.
Local
About 50% of all mobile searches have a local element. This offers great opportunities for companies that operate on a local scale. Focussing on being found locally, facilitating social checkins and being present on Google Maps / Places can boost sales for this type of organizations.

Want to brainstorm about the possibilities and challenges of social, local or mobile for your organization or industry? Please contact us at +31-73 8440004 or contact@shareforce.nl. We love to share our knowledge on this subject!